5 Famous Samples with the most unlikely of sources
Over the past few decades, we have become accustomed to the practice of sampling in contemporary music. A technique originally pioneered in the Hip-Hop world, it's now become commonplace in almost all genres of music. And as for the sources of these samples, it seems nothing is off-limits. From massive iconic hits such as Micheal Jacksons' 'Wanna be starting something' as sampled in Rihanna's Dont stop the Music, to obscure dusty vinyl nuggets like the rare Spaghetti Western Soundtrack (Preparati La Bara OST) as sampled by Gnarls Barkley on Crazy. And then of course there are the thousands of tailor-made, Royalty-Free samples to choose from. Of which we have thousands available on RouteNote Create!
But every now and again a producer will source a sample from an altogether more left-field place.

So, let's explore the intriguing origin stories of 5 popular songs and the unexpected sources behind their samples.
1. Gorillaz: Clint Eastwood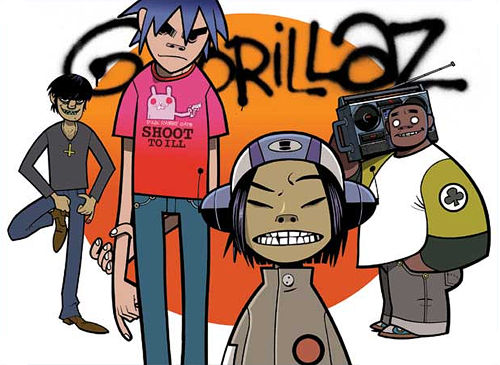 Earlier this year Damon Albarn made a startling revelation in an interview for Apple Music. The video featured Albarn giving Zane Lowe a tour of his recording studio. Zane's mind was totally blown when Damon bought out a cheap domestic Japanese keyboard. The Omnichord OM-300 by Suzuki. Damon proceeded to select a rhythm pattern and press play. Suddenly out from the tinny speaker came the unmistakable sound of their debut hit Clint Eastwood.

The infamous brooding Bassline and skanked piano chords were in fact nothing more than an Omnichord preset rhythm, Rock One to be precise. Even the famous kick drum fill was in there wholesale.
I think it's safe to assume most people, myself included had thought the sample was from a reggae record or at least inspired by the genre. Adding to the confusion, the track was recorded in a Jamaican studio and featured Augustus Pablo style melodica. It just goes to show that with the addition of some quality production, you can make a banger out of almost anything.

And if you're wondering about the legal implications, although there are no real test cases, as the Omnichords preset rhythms are designed to make music with they would almost certainly be in the public domain. Damon can therefore sleep easily.
2. Kellis: Trick Me
Like the Gorillaz Clint Eastwood, Kelis's 2003 hit Trick Me contains what sounds like an old reggae sample. This however couldn't be further from the truth. Rather than King Tubby at the boards, the Trick Me sample is in fact a Foxtrot. But not just any Foxtrot. Ironically this classic RnB cut features a sample taken from possibly the world's very first sampler – The Mellotron.

Uncovered a few years back by the fantastic YouTuber Alex Ball, the sample for trick me comes from a mellotron tape bank called Foxtrot. These tape banks were made for Mellotron in the 60s and intended as a band-in-a-box solution for, well I'm not quite sure what.

While the iconic Flutes, Choirs and orchestra sounds of the mellotron have since acquired iconic status, the prerecorded looped melodic tapes had long faded into obscurity. But when mellotrons began to be modelled in the early 00's these melodic loops were often included. This led to a number being sampled in pop recordings. Kelis's 'Trick Me' is a fine example. The crackly worn sound of the mellotron tape loop is expertly complimented by its phat drums and bassline. Hats off to producer Dallas Austin who as well as making the funkiest foxtrot in history also managed to avoid any sample clearance.
3. Nelly : Dilemma feat Kelly Rowland
While our first two examples have featured full melodic sample loops, in this example we concentrate on just one iconic sound. And anyone familiar with this classic slice of 00s RnB will surely know the sound I refer to. Yep, it's the classic 'Aaaah' one-shot.

Dilemma is actually a cover and interpolation of the Patti La'Belle song Love, Need and Want You but the 'Aaaah' sample doesn't originate from this record. Instead, producer Ryan Bowser turned to the Roland M-DC1 sound module. Well, I say that. Bowser denies he sourced the sample from the Roland machine. He has gone on record saying that he produced the sound while experimenting with various vocal effects. And incidentally, I recently won the Pulitzer Prize for 'best music-related blog' of the year!!! In the video below you can hear the legendary 'preset 169' for yourself and draw your own conclusions.
But the story doesn't end here. It later emerged that Roland had themselves been slightly cavalier when it comes to sampled content. The infamous preset 169 is not the result of a studio session at Roland HQ featuring an array of session vocalists. As you can hear from the video below, the Aaaah is in fact taken from a 1986 soul record by D-Train called Misunderstanding! The acapella version offers up the isolated Aaaah that Roland would later rip, I mean use, for the M-DC1.

I'm guessing the legalities of sample copyright had not been fully fleshed out in 1995 and Roland thought they could get away with short one-shots. Luckily for Roland, I couldn't find any evidence that they were sued by anyone over their suspect presets.
4. Umbrella: Rihanna
For this example we step away from melodic samples, focusing instead on a drum loop. The first thing you hear when Rihanna's Colossal hit Umbrella kicks in are those iconic funky rolling drums. These drums very much form the foundation of this classic song. I like to consider myself somewhat of a break-beat nerd and when I first heard Umbrella I couldn't help wondering where the drums were from. They sounded familiar but I couldn't place them. Little did I know they were already lurking on my MacBook. This is because it was later revealed the Drum Break in question was in fact a stock loop from Garage Band. Vintage Funk Kit 03 to be precise.

Producers Tricky Stewart and Kuk Harell simply looped the beat wholesale. They added some layering to help fatten the drums up but that's it! This just goes to show that multi-platinum hits can be made using stock sounds from free bundled software.
5. Under mi Sleng Teng : Wayne Smith
For our final candidate, we predate the sampling era altogether, travelling back to 1985. And while the other tracks in this list represent rather curious sampled oddities it's fair to say this example changed the face of a whole genre! The track in question – Wayne Smiths' infamous 'Under mi Sleng Teng'.

Like Clint Eastwood by The Gorillaz, this also uses a preset pattern from a consumer-grade Keyboard. In this case the Casio MT-40.
The back story to the creation of the Sleng Teng riddim is actually quite amusing. In 84 musician George "Buddy" Haye was preparing to tour the U.S. with his group The Wailing Souls. Before leaving he made a promise to a young up-and-coming producer called Noel Davis. He vowed to return to Jamaica with a synthesizer for Noel, a Yamaha DX 7 no less. So imagine the disappointment when on the band's return Noel was presented with the Casiotone MT-40!

Despite the obvious disappointment Noel along with his partner Wayne Smith, took the Casiotone to the studio and started to experiment. Whilst messing about with the MT-40 they happened upon the rock bassline preset. Unfortunately, minutes after discovering this preset, he changed the setting slightly and lost it! For the next week, the two attempted every conceivable combination to try to find it again. Luckily their persistence paid off. They eventually pressed the "synchro" button followed by the "D" bass button while the rhythm selector slider is in the "rock" position and slowed the tempo right down. Hey presto, the Casio once again chugged out the now familiar Du Du Du Du – Du Du Du Du – Du Du Du Du – Da Da!

Davis and Smith then took their Casiotone preset-inspired demo to Legendary producer King Jammy. Jammy added some skanked piano chords as well as some Jamaican mixing board alchemy and the rest is history.

Although Wayne Smiths' huge hit 'Under mi Sleng Teng' was the riddims debut outing it has since been used in around 500 commercial releases. It's widely acknowledged as the first fully computerized reggae track and has gone on to inspire the digital sound of reggae in particular Dancehall. A style that is still prevalent to this day. The term 'Sleng Teng' actually refers to Computerized reggae.
Conclusion
If one thing can be learnt from these examples it's not what you use but how you use it. The sonic inspiration for the next big thing can come from anywhere! A keen musical ear is often all you need in order to tune into interesting found sounds and textures. You don't necessarily need the latest state-of-the-art gear to create musical masterpieces. Go raid your kid's toy cupboard or maybe pull down that old Atari gaming system from the loft. You never know, it might contain some audio treasure for your next track!
---
Remember – RouteNote Create subscriptions start from as little as $2.99, and you also get 10 FREE credits to spend on samples when you sign-up as well as your FREE sample bundle!