Ableton introduce Push 3 controller
Hats off to Ableton. They managed to keep this one quiet. You may have heard by now that there's a new Push controller in town.

The news of Push 3 sent certain factions of the audio community into a fever-pitched frenzy upon its announcement. The reason for much of the excitement may have something to do with the news that there is now a stand-alone version. Yes, that's right. You now have the ability to untether yourself from your computer and run free, banging out beats wherever you may be – I am the lord of the Push said he.

So let's see what all the fuss is about in this Ableton Push 3 review.

So, what's new?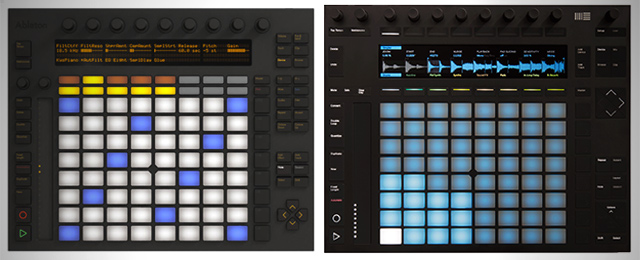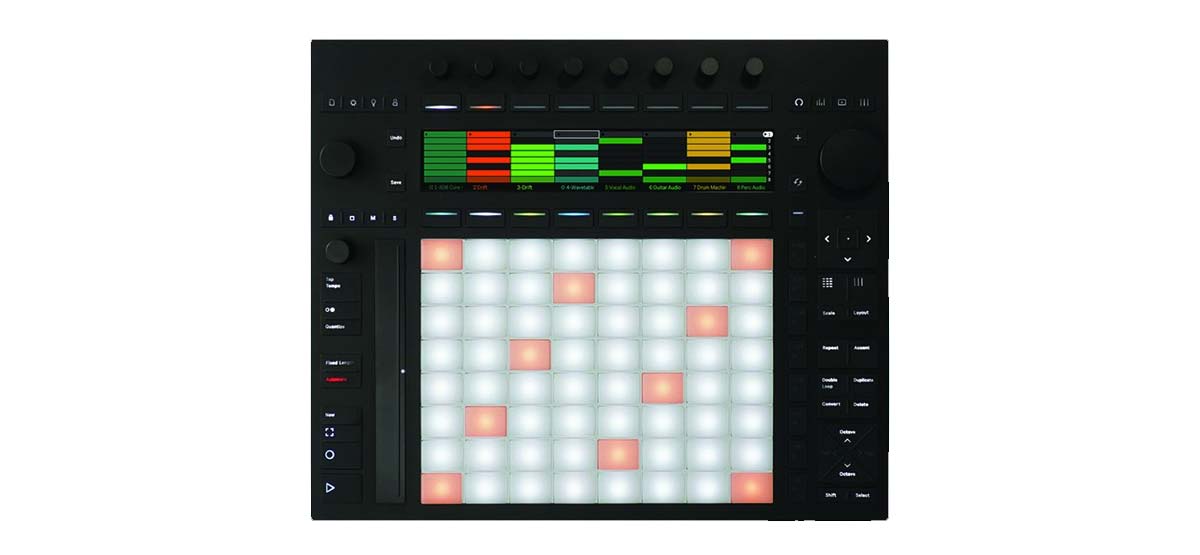 As well as the revolutionary inclusion of a stand-alone model, the Push 3 has many new features under its belt. most notably its expressive new pad capabilities. More on that later

The layout of the new Push is similar to its predecessors with the main upgrade being a large jog wheel to the right of the screen. When used in conjunction with the directional buttons this addition should considerably increase workflow speed.

As for all the other controls, besides being able to trigger your instruments from the screen, nothing much has changed since Push 2. The display does now feature a new clip edit mode meaning you can dial in and edit your midi in more detail than on previous Pushes.

Size wise it's pretty much the same with its square profile and low riding chassis. There are some additional connections in line with its new stand-alone status.
The Push comes equipped with two pre-amp equipped jack inputs, two main outputs and two more assignable monitor/headphone outs. ADAT in and out ports, MIDI in and out ports, two USB ports, one USB-C for tethered use and an additional USB for connecting a MIDI controller.
In addition, the pedal inputs now also double up as stereo CV outputs. This allows Push to conversate with any vintage gear you might want to introduce it to.
Pad Performance
Certainly one of the most exciting new features of the Push 3 is its seamless MPE pad integration. Finally, the Push starts to live up to its initial claims of being a performance instrument. Use expressive finger movements on and across the Pushes 64 pads to bring your instruments and samples to life.

Many of Ableton's stock instruments come pre-mapped with MPE for effects such as filters, pitch, modulation, volume, drum choking etc. This opens up a world of possibilities for musicians seeking enhanced control and expressiveness in their performances.

Check out the MPE-activated pads in action in this Ableton Push 3 controller review demonstration.
Standing Alone!
So let's take a look at probably the most revolutionary new development, Standalone mode. The new Push comes in 2 versions. Standard and Standalone. You will also have the option of upgrading to stand-alone from standard. This could be useful if you wanted to split the cost and upgrade further down the line when finances allow.

So what are the advantages of going solo? Well, firstly it's hard to dispute the Live performance potential of the standalone model. Simply rock up to your gig, plug in and get busy. No Laptop stands or USB cables that run the risk of getting yanked out just as you're about to hit that big drop.
You are also free to be truly mobile and create wherever the mood takes you. Do try to keep the sand from your inputs though when crafting a Tropical house banger on the beach. The Push 3 comes with a built-in Battery although with just 2.5 hours tops to play with you better work swiftly.

The fact that you can now grab your Push and get busy whenever and wherever the mood takes you gets a big YEAH BOIIIEEE from me but It is worth noting that there are some disadvantages to working in standalone mode. Most notably you are restricted to the Ableton suite of plugins and instruments. So no 3rd party plugins or virtual instruments I'm afraid. The Ableton rep in the video did hint that this may change in further updates.

Push 3 comes pre-loaded with Ableton intro. This is the entry-level Ableton software. I can't help feeling for such a premium product it would have been nice if it came with the standard Ableton Live. Even if they charged a little extra.
Alternatives
When it comes to stand-alone pad-based Production controllers it's pretty much been a shootout between Akai's MPCs, NI's Maschine and Ableton's Push. Each camp has its dedicated disciples and they all do a great job of minimising the need to stare blankly at a computer screen.

Unlike the MPC and Maschine, Push is very much tied to Ableton Live. Maybe Ableton is using the stand-alone model as an Ableton recruiting tool as many fans of pad-based midi controllers like the fact they are composing on a dedicated piece of hardware as opposed to a computer. The Push 3 may well be that gateway hardware into the wonderful world of Ableton.

Looking objectively at the new Push, as long as you're happy to embrace Ableton, then this machine packs the biggest punch when it comes to features and performance.
Conclusion
It's safe to say Ableton have really pulled out all the stops with the new Push. They have built upon the tried, tested and much loved Push foundations and taken things to another level.

The stand-alone mode will be a game changer for many with fantastic live performance potential. And if playing live isn't your bag the potential for fully horizontal sofa-based composition has at least taken a giant leap forward.

And with the addition of the performance-enhancing MPE-enabled pads, what's not to like? Who knows, the potential for such real-time dynamic expression and control may even entice some traditional Keyboard controller users away from the old ebonies and ivories.
Whether these changes are going to be enough to persuade Push 1 and 2 owners to upgrade shall be seen. A glut of second-hand Push 1's and 2's on Ebay will be an early indicator of this I guess. If however, you've been holding off from getting into the Push workflow then there has certainly never been a better time to commit. You will just have one decision to make. Basic model or stand-alone!
Specifications and Price
Intel 11th Gen Core i3-1115G4
8 GB RAM
256 GB SSD
Lithium iron phosphate battery – 2-2.5 hours of playtime
64 expressive pads
MPE-enabled
Live Intro included
I/O: 2x input jacks, 2x main output jacks, headphones out, ADAT in and out (up to 10-in/10-out), USB-C, USB, MIDI in and out (via adapter), 2x pedal/CV ports
Dimensions: W 380mm / 14.96in D 318mm / 12.52in H 44.5mm / 1.75in
Weight: standalone 3.95 kg / 8.7lbs, controller 3.1kg / 6.8lbs
Pricing: controller: $999 | £879 | €949 standalone: $1999 | £1699 | €1899 upgrade kit (available in late 2023): $1049 | €999
if this Ableton Push 3 review has whetted your appetite click here for more information
Remember – RouteNote Create subscriptions start from as little as $2.99, and you also get 10 FREE credits to spend on samples when you sign-up as well as your FREE sample bundle!